If you are among the many people with uneven and misaligned teeth, you will know that smiling is often a less than comfortable experience.
We understand that you might have thought of acting to improve your smile.
Has the thought of sporting uncomfortable, conventional orthodontics for many years and the cost of that approach put you off? We now have some rapid and easy solutions we can deliver right here in the surgery.
We offer both Smile Tru and Rapid Smiles procedures and Dr Campbell will be happy to discuss which of these affordable, simple and practical procedures are best for you.
About Smile Tru
Smile Tru is an orthodontic treatment that is able to straighten teeth using clear plastic aligners – instead of braces. These plastic aligners are constructed from the original models that are made of your teeth. A 3D scan of these models is manipulated on the computer to reposition and align the teeth in small stages, and then a sequence of plastic computer generated models  is "printed". On each of these models a plastic aligner is fabricated. These aligners are then worn in the mouth in strict sequence, and changed every 2-3 weeks until the desired result is achieved. In simple cases, it may be done with only 6 sets of aligners, whereas other cases may require up to 30 aligners. Thus a simple case might take just 3-4 months, while a complex case around 18 months.
The aligners must be worn all the time except for eating, and for cleaning of the teeth and aligners.
For some patients the plastic aligners are all that is required, for others some pre-treatment with simple, near-invisible appliances is necessary. Dr John Campbell is fully certified to provide Smile Tru orthodontics to his patients.
About Rapid Smiles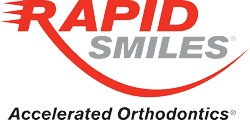 Rapid Smiles is a new and innovative treatment for adults who wish to have their front teeth straightened, but do not want to spend years in braces. This treatment offers treatment times of less than 6 months, and an option for invisible braces (braces on the inside of the teeth). Dr John Campbell is fully certified to provide the Rapid Smiles orthodontic procedures for his patients.
Rapid Smiles is a smart version of a proven dental procedure. It is broadly acknowledged that orthodontic braces are the most effective way of straightening teeth and creating a fantastic smile. Rapid Smiles is actually a substitute for unattractive long-term braces for your teeth.
The procedure is normally much more predictable compared to clear aligners, quicker than conventional full banding orthodontics and less costly when compared to either. Treatment procedures incorporate clear brackets which are positioned on the front of your teeth together with teeth coloured wires, or the braces are put on the back of your teeth – out of sight.
And don't worry – the procedures are fast and cause little discomfort. The moderate forces employed as well as short treatment periods give you an impressive level of comfort and well-being.
Along with this being a leading-edge procedure – it's reasonably priced plus the orthodontics are concealed. There is no need for specialist appointments because the treatment procedure is carried out at our dental practice.
Straight teeth plus a totally new smile are now simple and easy. Smile with confidence. A twenty minute consultation with your dentist might just improve your life.  It is actually that easy.